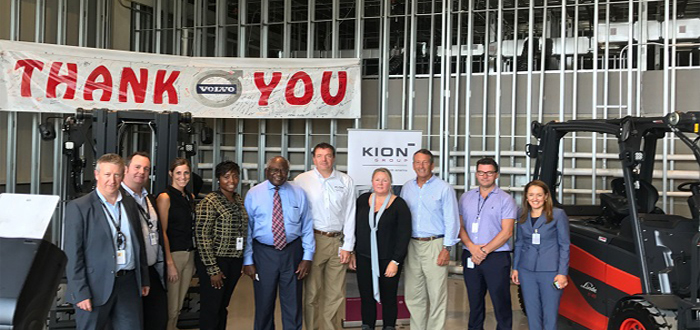 Kion supply Volvo first complete Lithium-ion fork lift fleet in automotive manufacturing in North America,
Volvo Car US Operations, Inc. has hosted an unveiling event for their first forklift delivery from KION North America.
In January, KION North America announced an agreement with the global automotive manufacturer to supply the material handling equipment for the company's first American factory located in Berkeley County, South Carolina.
"Today is a reminder that one day, someday is now," said U.S. Representative Mark Sanford. "You hear people and businesses say that one day we'll do this, someday we'll do that, but today we see those statements come to fruition."
A member of one of the world's largest manufacturers of industrial trucks, KION North America is located just five miles from the new Volvo Cars factory, which will be the global production home of the all new S60 Sedan.
The fleet includes forklifts, reach trucks and tow tractors, all provided and serviced by KION North America.
"Not only is this the fifth Volvo factory that KION Group is supplying equipment to around the world, but this will be the first complete Lithium-ion fleet in automotive manufacturing in North America," said Vincent Halma, president and CEO of KION North America.
An environmentally-friendly alternative to traditional lead-acid batteries, the Lithium-ion technology underpins the partnership and gave KION the competitive edge.
"It's the next generation of material handling power solutions," said Halma.
Equipped with the most innovative and efficient material handling equipment on the market, the Volvo factory will be capable of producing up to 120,000 cars per year.
"Our goal is to have the least intrusive footprint as possible," said Katarina Fjording, vice president of purchasing and manufacturing for Volvo. "By 2025 we aspire to be carbon neutral, and implementing Lithium-ion powered industrial trucks at our facility is a big step towards that."
In addition to supplying and servicing the equipment, KION North America is also hosting training at their Summerville facility for all of the Volvo equipment operators throughout the duration of the five-year agreement. http://www.kion-na.com/en/kion_na/homepage_kna.jsp