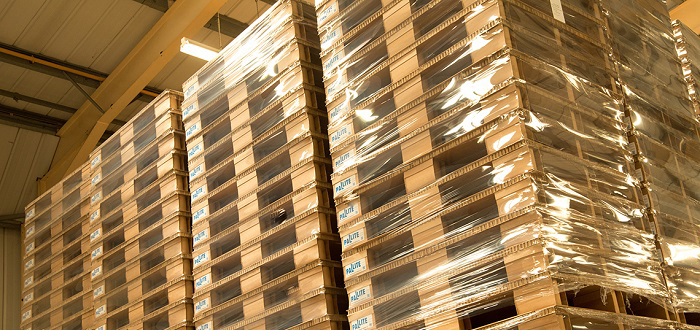 How businesses can overcome wooden pallet shortages
Recent low availability of the type of trees needed to manufacture wooden pallets has reduced supply and pushed prices up, to the point where even the most die-hard wooden pallet advocates are considering moving away from wood, for the sake of their business's bottom line.
By switching to PALLITE® – the ultra-lightweight, strong, recyclable paper pallet – businesses can be confident of supply, and therefore price, from a product that can perform to the high standards they require.
Why is there a shortage of wooden pallets?
Since the beginning of the year, the Timber Packaging and Pallet Confederation (TIMCON) has been warning of the "serious challenges" posed by "unprecedented shortages" of timber – particularly the smaller logs required by the pallet and packaging sector.
This scarcity is pushing the cost of timber up, with the Confederation of Forest Industries (ConFor) reporting the highest prices for 20 years. With the price of the raw material the biggest cost in manufacturing a timber pallet, these hikes are unavoidably being passed on to customers in the form of a higher price for the finished pallet.
Global demand for wooden pallets is also increasing due to the improved economic environments in many countries. Thanks to this, and the high prices resulting from the timber shortage, many businesses are finding their profitability threatened by additional high costs and the potential for production stoppages due to a lack of pallets to transport them on.
PALLITE® has the solution
Businesses that once relied on wooden pallets are now looking for a cost-effective and sustainable solution to solve their pallet supply issues. PALLITE® is that solution.
Our pallet and box ranges offer a reliable – and truly viable – alternative to wood that not only does the job but results in a lot of additional benefits too, including significant weight savings, better resistance to mould and no nails or splinters to cause injuries or damage consignments.
No distraction with a consistent supply
At PALLITE®, we don't suffer from materials shortages like many other pallet manufacturers do. Our super-strong paper pallets are made from materials from consistent and sustainable sources. We use recycled waste paper that can be sourced in abundance all year round, regardless of market conditions.
Our own manufacturing processes are closely monitored too. Within our factory, we do everything we can to eliminate the potential for disruption in our customers' supply chains. We have controlled manufacturing methods with built-in flexibility to cover every eventuality and extensively test every one of our products before it leaves our warehouse. We also perform proactive quality checks on every reel of paper that enters our factory at the outset to ensure nothing is left to chance.
In fact, we leave no stone unturned in our mission to safeguard our customers a consistent supply of high-quality pallets, whenever they need them. By working with us, businesses are choosing the low risk option and their bottom lines will see the benefit. Ensuring a consistent supply means we can also agree a fair price for our product that isn't going to change suddenly because of market conditions.