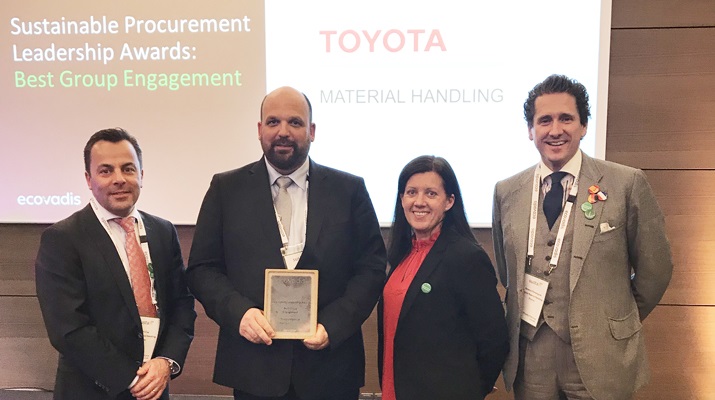 EcoVadis awards Toyota for Best Group Engagement.
Photo from the left to right:
Ralph Cox, Senior Vice President Marketing & Sales, Tom Schalenbourg Director Sustainable Development, Carina Strömberg Sustainability controller, Toyota Material  Handling Europe.  Ernesto Domínguez, Managing Director, Toyota Material Handling France.
Toyota Material Handling Europe is awarded for "Best Group Engagement" as part of the 2018 Sustainable Procurement Leaders Awards presented by EcoVadis. The award recognises the companies that are committed to transparency by measuring and harmonising their performance across all entities on the EcoVadis platform.
On Tuesday 10th of April, EcoVadis organised its Sustainable Procurement Leaders Awards at its annual Sustain event in Paris, where companies were recognised for their efforts in sustainability and transparency. The "Best Group Engagement" award was handed to Toyota Material Handling Europe, first evaluated at a group level by EcoVadis in 2012, and expanded its annual EcoVadis assessments to 26 entities since then. In 2017, its four European factories, 21 national sales companies and the group as a whole were evaluated and awarded eleven Gold, thirteen Silver and two Bronze ratings.
"I am very grateful and proud to be part of a team which is achieving numerous Ecovadis recognitions in Europe. It supports us to build confidence with our customers, suppliers and our employees. It gives also a lot of new energy to do even better next year. Kaizen, or, continuous improvement, is one of our 5 core values within Toyota," said Ralph Cox, Senior Vice President Marketing & Sales, Toyota Material Handling Europe, when receiving the award. "I would like to thank the sustainability team for driving this initiative, and supporting our 28 sustainability champions across Europe who have been the local engines to drive these results."
EcoVadis makes it easy for companies to do business with Toyota Material Handling Europe. The comprehensive platform and an annual re-evaluation of each of Toyota Material Handling's participating entities gives easy access to performance reports covering 150 purchasing categories regarding environment, labour, fair business practices and sustainable procurement. EcoVadis provides easy-to-use sustainability ratings and evaluations, and is used by leading multinationals and over 40,000 of their value-chain partners across 120 countries.