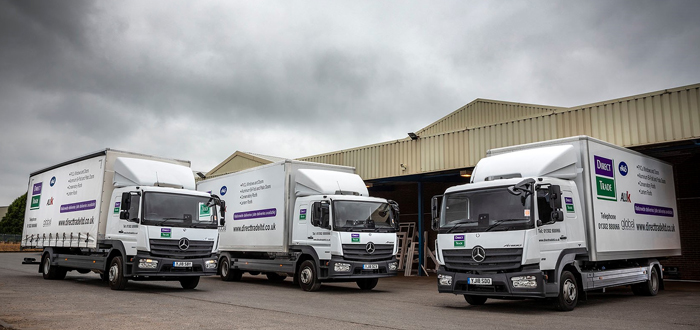 Economical Mercedes-Benz Atego Is A Clear Winner For Direct Trade.
Leading window, door and conservatory fabricator Direct Trade treated itself to a special 20th birthday present in the shape of 15 fuel-efficient Mercedes-Benz trucks.
The Doncaster-based manufacturer acquired its new Atego rigids from the local branch of Northside Truck & Van, the reigning Mercedes-Benz Trucks Dealer of the Year.
The subject of a flexible, low-cost Agility funding agreement with Mercedes-Benz Financial Services, the line-up comprises six 12-tonners with L-cab ClassicSpace sleepers, and nine 7.5-tonners which have been specified with a combination of S-cab day and L-cab sleeper ClassicSpace cabs.
They are Direct Trade's first Mercedes-Benz trucks, although the company is a long-standing operator of Sprinter vans which also wear three-pointed stars and are serviced by Northside.
Direct Trade ordered the Atego after trialling a 7.5-tonne demonstrator for a week. "That vehicle did very well on fuel," recalled Transport Manager Dave Smith. "Our previous trucks in the same weight class were returning 16 mpg at best, but the Mercedes-Benz produced a figure of 21 mpg.
"An improvement of 5 mpg and more represents a very substantial cost saving for the business. The drivers really liked the Atego too, which was another factor that weighed heavily in its favour – if you can keep your drivers happy they'll perform better at the wheel."
The operator stood down 15 vehicles to make way for its new Mercedes-Benz trucks. The 12-tonners are 1223 models with 5.1-litre six-cylinder engines, which transmit their 170 kW (231 hp) outputs via smooth Mercedes PowerShift 3 automated transmissions. The 7.5-tonne Atego 816s employ a 115 kW (156 hp) version of the same powerplant, paired with the same gearbox.
Fitted with either box or curtainside bodies, by Alloy Bodies, of Manchester, the Atego are now delivering Direct Trade's market-leading products to its customers' factories and building sites nationwide.
Explaining the rationale behind its decision to specify two sizes of vehicle and two body styles, Mr Smith said: "Access at some of the locations to which we deliver can be very tight. The profile of our new fleet offers the best combination of flexibility, efficiency and productivity."
The Atego are being inspected and maintained by Northside under Mercedes-Benz Truck Local Complete Contracts. "We plan to run these trucks for at least five years and will be working them hard, with each typically covering 2,000 km per week," he continued.
"We enjoy a very good relationship with the Dealer through our operation of the Sprinters, and have every confidence in its customer-focused back-up. Northside's 24-hour servicing capability is invaluable – it means we can get vehicles into the workshop at night, so they're always available for work when we need them."
Mr Smith added: "The finance package is highly cost-effective and gives us a range of options at the end of the term. Image is important too, and these smart, modern trucks are helping to promote a very positive impression of our business when they deliver to customers."
Established in 1998, Direct Trade operates from a 90,000 sq ft facility at which it manufactures PVCu windows and doors, composite and bi-folding doors, and conservatories.
The firm has invested heavily in its factories, which boast state-of-the-art processing lines and other machinery.
The Mercedes-Benz Atego range is purpose-designed for light- and medium-duty distribution work, as well as construction applications, and comprises chassis with gross weights from 6.5-16 tonnes. The Atego offers outstanding driving dynamics, comfort and manoeuvrability, and is an ideal platform for a comprehensive array of body options.
www.directradeltd.co.uk