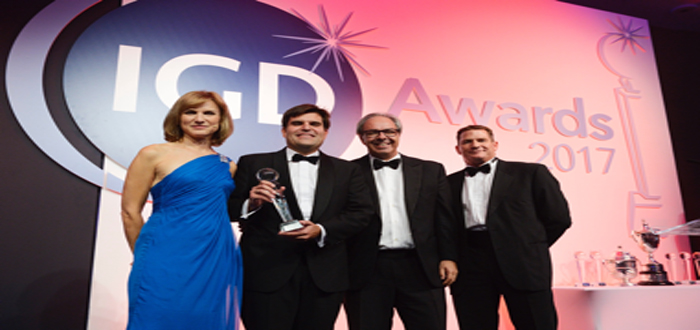 Chep honored with The IGD John Sainsbury learning and development award.
Photo: David Cuenca, VP, CHEP Southern Europe (3rd from the left) and Marco Salort, Director, Last Mile Solutions, CHEP Europe (2nd from the left)
Focus on Virtual Reality and Last Mile Solutions
CHEP, the supply chain solutions company for many of the world's largest supply chains, was among the winners in the prestigious IGD Awards 2017 program. The winners were announced at the annual awards ceremony and gala in London on Tuesday, October 3rd.
CHEP won the IGD John Sainsbury Learning and Development award for combining category management and Virtual Reality (VR) to teach the value and benefits of using its platforms, such as quarter pallets, as reusable merchandising solutions in stores. The VR tool uses category management principles to develop employees' and customers' understanding, in an engaging VR store environment.
Stuart Comer, Head of Learning and Development at Sainsbury's, said: "CHEP has clearly demonstrated how an innovative and engaging approach to learning and development can not only transform employee engagement and capability, but also how it can become a game changer in shaping business strategy and direction".
"A truly global initiative, its Virtual Reality approach to enhancing 'the last mile'[1] has created added value well beyond its traditional business boundaries, and enabled CHEP to understand its customers and therefore build credible solutions in partnership."
Photo: David Cuenca, VP, CHEP Southern Europe (3rd from the left) and Marco Salort, Director, Last Mile Solutions, CHEP Europe (2nd from the left)
The majority of IGD award winners were selected by judges from across the food and grocery supply chain. IGD is an education and training charity, channeling expertise into initiatives designed to help the food and grocery industry deliver the needs of the public. Its reach is global, with experts based in the UK, Asia and North America.
Christophe Loiseau, CHEP's Senior Vice President for Last Mile Solutions (LMS), said: "We developed a VR tool that allows our employees and customers to learn, through category management principles, the value, benefits, and usage of CHEP platforms as a reusable merchandising solution in stores compared to the alternative".
"VR allows CHEP to support customers to sell more with less, reducing out-of-stocks and improving merchandising and replenishment. We have a great commitment to innovating and collaborating in order to help drive efficiency and sustainability across supply chains".
CHEP is an expert in Shopper Marketing[2] and supports customers to achieve shopper needs. Innovation is one of the pillars of the CHEP Last Mile Solutions strategy, and it is focused on Promo Tracking (Internet of Things), Shopper & Product Connectivity and Augmented Reality.[3]
CHEP began the VR journey in Spain. The team created a VR simulation with VR partner (New Horizons) for a major retail chain store. A virtual hypermarket was built to give category management recommendations about how to meet shoppers' needs through a different perspective using the VR tool. This was deemed a success as the retailer decided to implement the changes.
Based upon this success, CHEP decided to roll out the VR approach across CHEP Europe in the UK, France, Portugal, Benelux, Germany, Poland and Italy, and across CHEP North America in the United States and Canada.
1 Last mile is a term used in supply chain management and transportation planning to describe the movement of people and goods from a transportation hub to a final destination in the home.
2 Shopper Marketing is "understanding how one's target consumers behave as shoppers, in different channels and formats, and leveraging this intelligence to the benefit of all stakeholders, defined as brands, consumers, retailers and shoppers.
3 Augmented reality (AR) is a live direct or indirect view of a physical, real-world environment whose elements are "augmented" by computer-generated or extracted real-world sensory input such as sound, video, graphics or GPS data. It is related to a more general concept called computer-mediated reality, in which a view of reality is modified (possibly even diminished rather than augmented) by a computer.