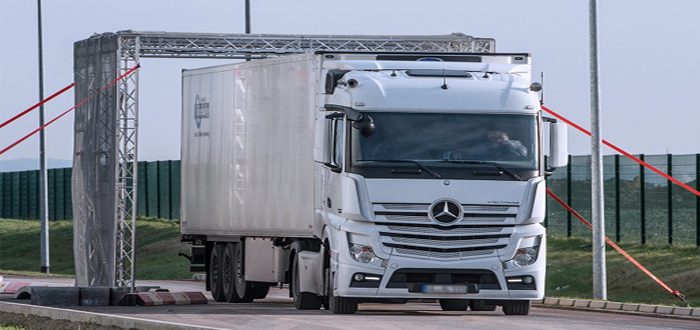 Charging lorries by how far they travel would improve air quality and help reduce congestion and crashes, say campaigners.
Campaigners are calling for the way that heavy goods vehicles are charged to use UK roads to change in order to better reflect the impact HGVs have on the environment and other road users.
Submitting evidence to the Department for Transport consultation on reforming the heavy goods vehicle road user levy, Campaign for Better Transport is calling for the existing time-based charging system to be replaced with a distance-based one.
The current road user levy was introduced to ensure foreign HGV operators paid an appropriate charge for using the road network. However, there is wide spread acknowledgement that the current levy does not go far enough and that the real impact of HGVs on other road users and the road network is not properly accounted for.
The transport charity believes that reforming the levy to a distance-based system would be the single most effective way to achieve the Government's stated objectives of improving efficiency, reducing exposure to collisions and reducing air and carbon dioxide pollution.
Philippa Edmunds, from Campaign from Better Transport, said:
"We support the Government's aim to reduce road congestion and pollution by incentivising more efficient use of the road network through an effective lorry road charging system. The existing time-based system has neither led to efficiencies – empty running is now at 30 per cent, the highest level for years – nor a reduction in emissions and collisions in the UK.
"The overwhelming evidence shows distance-based HGV charging systems can reduce lorry miles and therefore reduce congestion, pollution and crashes. Furthermore a distance-based system would make it fairer for rail freight to compete if HGVs were paying a fairer proportion of the costs they impose on the economy and society."
Campaign for Better Transport believes a distance-based lorry road user levy would have the following benefits:
· Improve HGV efficiency thereby reducing lorry miles and congestion. Congestion cost the UK £30 billion in 2016 with the UK ranked the fourth most congested developed country and third most congested in Europe
· Varying charges according to the emissions level of the vehicle would encourage early take-up of cleaner technology and help improve air quality. HGVs contribute 17 per cent of road transport carbon dioxide emissions, despite making up only five per cent of road vehicles
· Road freight is currently heavily subsidised, only paying around a third of the costs they impose on society. Reforming the levy would allow rail freight to compete more effectively on price. Moving more freight by rail would have environmental benefits as well as helping reduce congestion and crashes.
1. Since 1 April 2014 all operators of HGVs at or above 12 tonnes gross weight using UK roads have been required to pay the HGV Road User Levy. The Levy has been a significant first step towards ensuring that operators of HGVs – both UK and foreign – pay an appropriate charge for their usage of the road network.
2. The Department for Transport is currently consulting on changes to the road user levy. The consultation closes at 23:45 on Friday 26 January. Read the consultation documents here.
3. Previous research by consultants MTRU for Campaign for Better Transport and sponsored by the Department for Transport, looked at the economic benefits of using the railways to solve road congestion and improve productivity; and improve air quality and reduce pollution. Read the press releases here:
http://www.bettertransport.org.uk/invest-rail-freight-cut-road-congestion-research-shows
http://www.bettertransport.org.uk/new-research-shows-just-2000-less-hgvs-would-mean-ten-cent-reduction-air-pollution
4. According to Inrix, congestion cost the UK £30 billion in 2016
5. Research carried on behalf of Campaign for Better Transport in February 2015 estimated that road freight's total annual subsidy was £6.5 billion. Read the full research here.
6. Freight on Rail is a partnership of the transport trade unions, the rail freight industry and Campaign for Better Transport.
7. Campaign for Better Transport is the UK's leading authority on sustainable transport. We champion transport solutions that improve people's lives and reduce environmental damage. Our campaigns push innovative, practical policies at local and national levels. Campaign for Better Transport Charitable Trust is a registered charity (1101929).