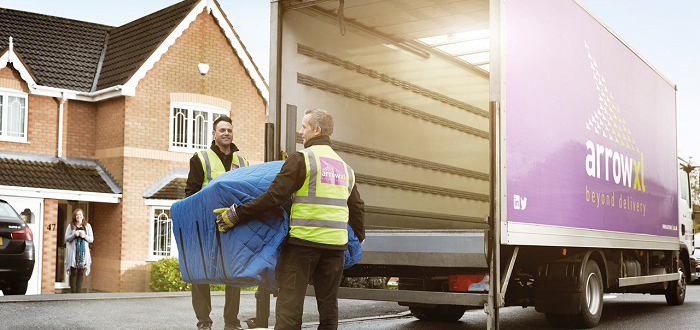 ARROWXL LAUNCHES NEW SURVEY TO DRIVE ENHANCED SERVICE FOR RETAILERS
ArrowXL, the UK's leading two-person home delivery expert, has launched a brand-new customer satisfaction (CSAT) survey in a move designed to further enhance the portfolio of services it provides on behalf of the UK's leading retailers. The company quickly corresponds with each consumer in order to gather data, monitor performance and drive improvements.
As part of a new customer experience strategy, ArrowXL wanted to broaden how it monitors the level of service when fulfilling 55,000 deliveries each week across the UK. Previously, the company had clear measures of delivery or collection success rates but had a limited understanding of each consumer's actual experience.
The CSAT survey was designed and developed on-site using ArrowXL's own technology and systems, together with software company Gnatta, and was completed on-time and to-budget. Three SMS messages are now sent to each consumer within 15 minutes of a successful or unsuccessful delivery or collection, whilst messages are also sent to any customer calling the ArrowXL Contact Centre. In the first two questions, consumers can score ArrowXL from 1 to 5, whilst a third message asks for free text information, so the company can receive specific feedback.
The back-end database was designed within a 3D model to efficiently create insights and retrieve data. CSAT information can be filtered by call centre agent, delivery crew member, by hub or outbase, by product, client, or for any reason cited by crews for unsuccessful delivery.
Fauzia Mulla, Head of Customer Experience at ArrowXL, said: "We have created a new CSAT survey that provides us with an abundance of valuable information and data to help us further improve the vital services and solutions we deliver to our clients' customers every day. This level of insight allows us to highlight potential problem areas and identify where any improvements could be made at specific touch points throughout the customer journey."
Charlie Shiels, CEO at ArrowXL, said: "We have made a significant investment in this survey in order to help shape our customer experience strategy for years to come. We have made this a completely free solution to retailers and manufacturers, so we can deliver greater transparency and industry-leading service levels."