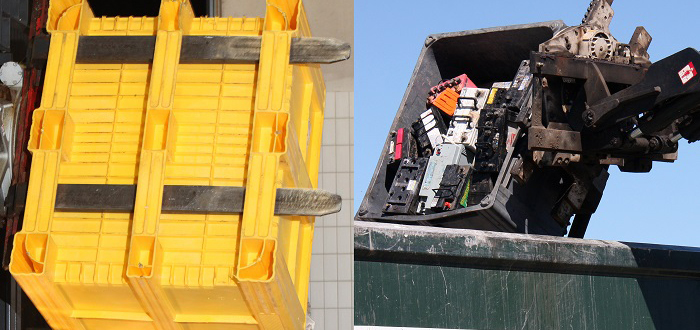 Eco recycling box at RWM.
Dolav plastic pallet boxes last a long time and have always been recyclable. End-of-life boxes are ground down to pea-sized pellets and returned to the Dolav factory and made into wheelie bins. The recycled plastic is then set for decades of use in domestic waste recycling. Now, ten percent of the electricity used in making new boxes or wheelie bins is produced by factory roof mounted solar panels.
Abuse tested by TÜV SÜD, Dolav Ace boxes are widely used in the demanding environment of recycling and waste handling. They excel. They are a one-piece moulding with integral runners. They are so strong and long lasting, recyclers select them to store and transport lead-acid batteries and call them, 'The Battery Ace.' Recobat says, "Dolav Ace lasts three-times longer than others." Recycling Lives says, "Fixed runners don't come off." Sims says: "Ace does not leak battery acid, is strong and does not break."
The Ace has 'Hygienic Design' says Campden BRI. The Ace, like all Dolav plastic pallet boxes, uses virgin, FDA-approved, food-quality HDPE. They are easy to clean to meet food hygiene demands for handling and recycling bi-product and waste in food production facilities. Indeed, supermarket Aldi, recycles waste food to make electricity and uses Dolav plastic pallet boxes. An Aldi spokesperson said: "As a responsible retailer, we are always looking for ways to continue to be environmentally friendly. The Dolav boxes are solid and do not leak, they are very easy to wash and keep clean. They are robust – the modular one-piece moulding design means they don't break and the pallet size fits our systems."
Dolav UK has Ace and lid stocks in nine colours. Customers can have local on-box printing and customisation with e.g., drain taps, castors, hinges and locks.
New at the show: The hygienic Dolav DFLC is new. It stacks, tips, folds and holds 750kg in 600 litres. It's been called, 'The Folding Ace'. http://uk.dolav-news.com