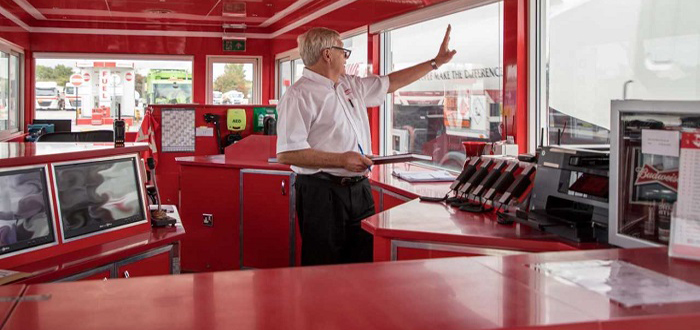 STANLEY SECURITY CCTV SYSTEM HELPS CUSTOMER WIN AWARD
STANLEY Security, one of the UK's leading security providers, is delighted to have contributed to Formula Services winning Truck Stop of the Year, following the installation of a CCTV installation.
Located in Ellesmere Port, Formula Services Premier Truck Stop offers customers top class facilities, including a free fitness room along with superb lounge/relaxation areas with free massage chairs, Sky sports and Xbox usage, to shower, laundry and catering facilities and even the use offree bicycles to get out and about.
A key part of its success has been its onsite security as Gerry Graham, General Manager of Formula Services, states: "Security is vital to our business and our clients/customers, who all carry materials/items of value. On our new website we heavily promote our site security (36 Cameras, Manned Security Guards, ANPR) as this is what hauliers/customers require and, I personally believe, insurance companies also want this level of security. I believe that along with our superb facilities, the security measures that we have in place most definitely contributed towards our winning of the Truck Stop of the Year award and our accreditation with TAPA (LEVEL 3 PSR). I believe we will also start to see additional benefits as we enter 2019."
STANLEY Security designed and installed a 36 camera CCTV system with six monitors. A mostly external system to protect the site from unwanted visitors, static cameras were used for perimeter detection and Pan Tilt and Zoom cameras deployed in key locations.
A key challenge involved utilising the existing onsite cabling, which meant thinking outside of the box. A solution was found by STANLEY, involving Dahua extenders to boost the signal to the furthest points then powering the cameras via switches at the bases of the camera towers. This enabled the cable to be used without compromising the quality of the CCTV system.
Gerry based his decision to award this contract to STANLEY Security on his previous experiences when looking at site security. "I also looked at the site's history with two to three previous security installers and basically went with what I believed to be the best option for Formula; this included back up support/maintenance etc."
Formula Services is clearly pleased with the results as Gerry comments: "Having spoken with the security staff who operate the equipment they believe the clarity of the pictures, along with the easy to use controls, are the main benefits. Our site customers are also impressed with the system/cameras."
The new CCTV system was financed under STANLEY Assure, a finance solution for customers wishing to benefit from up to date security technology without the risks of ownership and with evenly spread, manageable payment terms with no hidden extra costs. STANLEY Assure removes the need to justify and raise significant capital outlay in a depreciating asset. Instead, STANLEY will buy back and take over an existing security system, upgrade it to incorporate the latest security technology, and then hire it back for usage. It provides customer such as Formula Services with an affordable means of upgrading a complete security system as Gerry comments: "Having the costs spread over the length of the deal was deemed the best option for the business at that time. We were also spending money upgrading other site facilities at this time so again this made total sense".
Formula Services is also benefitting from a STANLEY Security maintenance contract for the CCTV system for maximum effectiveness and peace of mind.
For more information on STANLEY Security, please go to www.stanleysecurity.co.uk