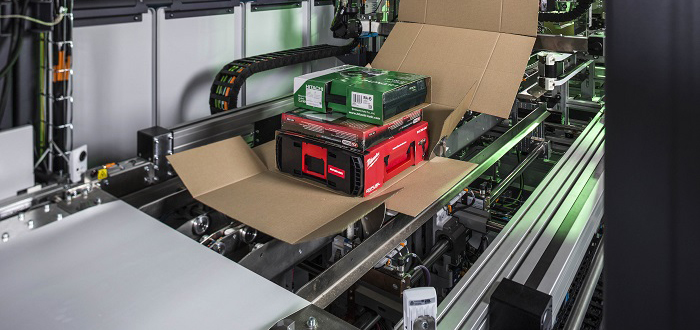 Fast and automated, customised packaging is reaping big rewards for environmentally conscious outdoor-pursuits specialist retailer, Internet Fusion Group.
Internet Fusion Group is a fast-expanding online retail business with a portfolio of niche brands specialising in life-style products across surf, skate, snow, equestrian, motor sport, as well as premium street and outdoor fashion. Sites that will be familiar to outdoor and sports enthusiasts include: Surfdome, Ride-Away and Fitness Footwear.
Established in 2006, the business has quickly grown through acquisition, retaining the skills and knowledge unique to each enterprise and realising economies of scale with a common marketing resource, finance team, and a shared 146,000 sq ft warehouse in Kettering.
Surviving and thriving in these niche markets demands a deep understanding of the products and market place, a keenness to pursue efficiency within its logistics and fulfilment operations and a strong desire to act responsibly on the shared values it holds with its customers.
To this end, minimising its environmental impact is a perennial focus for Internet Fusion Group. Like much of its customer base, the business shares a passion for creating a sustainable future, free from single-use plastics commonly used in packaging.
"We are very much front runners on sustainability and packaging," says Adam Hall, Head of Sustainability at Internet Fusion Group. "Across the group our packaging is now 91% plastic-free and next year that percentage figure will look even better."
Pursuing its dual quest for sustainability and productivity, the retailer has recently invested in a state-of-the-art automated packaging solution from Neopost Shipping that uses recyclable fibreboard. In the first application of the technology in the UK, the installation of two CVP-500 automated packaging machines at Internet Fusion Group's Kettering warehouse has transformed productivity on site by packing multiple items for a single order in the same time as it takes to pack one item – enabling one operator to pack single or multiple items into a snug fit-to-size box at a rate of up to 450 packages per hour.
The cost savings made in terms of lower shipping volumes and materials, such as void-fillers and fibreboard, are significant, which together with freed-up labour resources, offers a fast ROI and lower CO2 emissions. One machine typically replaces eight to sixteen packing stations.
The CVP-500 measures, constructs, tapes, weighs and labels each parcel in one seamless process. The operator simply places the item or items to be packed onto the machine and scans the order. The system identifies the order and automatically conveys the items to a 3D scanner to measure and calculate the minimum box size required. The fibreboard is then cut and folded to create a snug fit around the goods and tape is applied on just two sides to secure the package. Then an in-line scale checks the weight against the order and, finally, the package is automatically conveyed to a label printer where a carrier compliant label is created and applied. The whole process, from start to finish takes just thirty seconds, with a custom made box configured every seven seconds.
"The two machines were installed in August 2018 and in their first month of operation they produced over 50,000 fit-to-size parcels," says Adam Hall. "Because we are dealing with specialist equipment, we needed more specialist staff in the warehouse and to do that our systems needed to be more efficient. Automating the packing process has enabled us to devote more staff to more value adding activities."
The problem Internet Fusion Group had been facing was similar to that of most businesses manually packing at high volumes into fibreboard boxes. The process required multiple packing desks with numerous staff and a wide range of box sizes for packers to select from. However, as with most manual packing operations, the match was often far from exact and void-fillers were usually required to cushion the goods. This led to suboptimal use of materials, wasted shipping volume, and valuable warehouse space taken up with storing a variety of box sizes.
"The first rule of sustainability is reduce… and when you reduce, you save money as well," says Adam Hall. "In terms of shipping volumes, our calculations indicate that the two machines will offer a reduction of 92 truck loads a year, due to the space savings of fit-to-size packaging. So that's 92 fewer trucks on the road."
With a maximum weight capacity of 30kg and a capability to build boxes with dimensions from 24 cm (width) x 18 cm (length) by 10 cm (height) to 60 cm (width) x 55 cm (length) by 40 cm (height) – and all sizes in between – has meant that the machines are able to cater for in excess of 80% of Internet Infusion Group's product range.
Adam Hall is pleased with the results: "Before we had a series of pack benches with cardboard boxes and gum tape and we used 100% recycled paper void filling. With the CVP-500 boxes are cut to size, which means we no longer need paper void filling – so reducing resources needed and costs. And the machines speed up that packing time, freeing up the guys for other activities rather than packing."
There are other unforeseen benefits too, as he points out: "The machine weighs and scans the size of every product and because we know the product type, we are able to build up a data base on the physical aspects of a product and this is really useful data when we approach a parcel carrier, or when determining where products should be placed in the warehouse to gain efficiencies."
Of course, servicing and support are vital for ensuring long-term benefits and Neopost Shipping, with its specialist engineering support services, is well positioned to respond quickly. "We were very fortunate to have a very dedicated Neopost UK team and we had engineers with us for weeks overseeing the integration. It's not a complex machine to use so staff were quick to pick it up. But importantly, the backup and support from Neopost is fast. We have no complaints whatsoever," says Adam Hall.
The CVP-500 machines have given Internet Fusion Group the capacity to expand on the same footprint and cope with peak at optimal performance.
An impressive new video on the case study at Internet Fusion Group can be seen at https://cvp500.com/case-study-internet-fusion-group/