Today we are proud to announce we have expanded our fleet with five Volvo FE 6×2 Rigid Tankers – with an investment of over £700k.
As Scotland's fastest-growing fuel distribution company, Oilfast specialise in heating oil, red diesel, derv, licensed AdBlue & more. We deliver oil to domestic and commercial customers, whether you require a 36,500-litre delivery or an articulated tanker right down to 500 litres. The team at Oilfast can cater to your every need. As such, we are continuing to expand and improve our operation here at Oilfast.
With 8 depots across Scotland and Wales, we deliver excellent service to the UK, no matter the circumstance – even during COVID-19. That is why we are reinvesting back into the areas of the business that matter most to our customers.
The five brand-new trucks will operate out of our Crieff, Grangemouth & Insch Depots in Scotland.
The Tanker Building Process
tanker consists of 3 main components:
Chassis – Volvo FE
Tank Build – Cobo
Discharge/ metering equipment – Emco Wheaton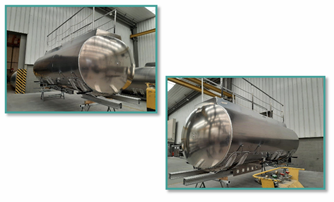 Stage one of the process involves shipping the vehicle chassis to Emco Wheaton's workshop in Margate. Here the specialist team attach the new metering equipment to the chassis for transport to Spain. Once the chassis arrives in Spain, the team at Cobo install the chassis and tanker together. This process can take serval weeks to perfect before returning to the UK.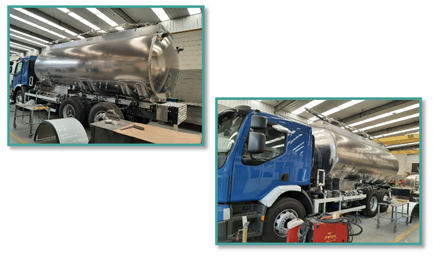 The next stage involves returning the tanker to the UK for testing, once the build is complete. From here, the tankers then go for testing to ensure they are safe for carrying fuel. After passing this test they are then sent to be branded in our iconic Oilfast logo & saltire – before being delivered to our head office in Motherwell!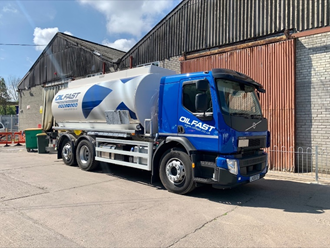 Key Specifications & Features
Each tanker has a gross vehicle weight (GVW) of 26 tonnes giving them a maximum carrying capacity of 17,500 litres. In addition, the tanks are equipped with 5 compartments (aka pots) to allow us to offer a wide range of products and services to our customers. Including Heating Oil, Red Diesel and Derv.
All vehicles come with 3 key safety features:
Overfill protection
Electrical isolation
Earthing & vapour recovery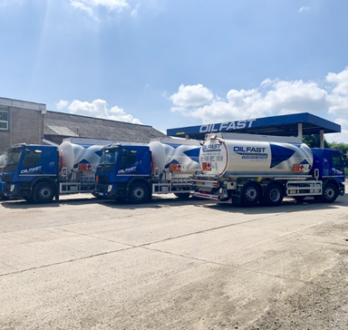 The Next Generation
"Our vehicle investment for 2021 is now over £1million. With a further 8 tankers coming in 2022 this takes our total investment in vehicles to over £2.5million in two years. As we grow, it's important we reinvest back into the areas that got us here in the first place. We are extremely excited to see the next generation of Oilfast tankers out on the road and hopefully, our customers are too." – William Nicol (Transport & Operations Director)
Our Promise
Thank you to our amazing customers for putting us in the position to expand our fleet. As we grow as a company, so does our customer base and we want to ensure that we do right by all our customers. As such, the technology may change but our approach to customer service will not. We do not have call centres; we will always have community focused depots that offer a localised approach to providing our services. As such, we are still committed to providing the best service possible.
Oh… and if you see our new tankers out on the road, do not forget to take photos and tag us on social media!
For more information on our new tankers, contact us direct on 01698 755 620 or Email us at [email protected] and our experts can help.
Visit our site at ​www.oilfast.co.uk