Covid-19 has shifted priorities for retailers across the world. It has caused unprecedented demand on supply chains and unexpected high volumes of online sales as physical stores close. Alongside battling this surge, retailers have been implementing safety measures and experiencing a slowdown in supplies as other companies do the same. This has shone a light on logistics management and a need for preparing for periods of rapid change rather than a 'good for now' approach.
The Affect of Coronavirus on eCommerce
With much of the world going into some form of lockdown, e-commerce has boomed as customers turn to online shopping to purchase essential and non-essential goods. The overall proportion of sales grew to 30.7% in April, doubling from the month before. * Just as retailers recovered from the Christmas peak, they were now having to deal with another peak period with no preparation. The global nature of coronavirus cause disruption in the supply chain never seen before. With stock running out quickly, businesses that relied on supplies from other countries found themselves unable to get their orders fulfilled quickly.
The knock-on effect of not getting products down the supply chain is not being able to deliver quickly to customers, or not being able to supply to them at all. With the big competition over certain products such as home and garden, exercise gear, and food, not being able to get products into customers' hands quickly became the difference between a sale or a cart abandonment. Delivery has always been important for customers, but in the coronavirus era, a robust delivery system has become even more important.
Also, once they had the products ready, many experienced problems with actually delivering, as carriers became overloaded and struggled to cope. Any retailers who relied on one carrier were left scrambling to find other carriers who could deal with the extra demand. The result? Unfulfilled or slow deliveries, and unhappy customers.
Customer Returns have also experienced disruption due to the pandemic. As physical stores have closed, the option of 'click and collect' and 'return to store' is now unavailable. New policies have had to be formed or return times extended to account for the difficulty that customers have in getting their products back.
How Can Retailers Mitigate the Issues Experiencing During Coronavirus?
A burst in online shopping would usually be seen as a good opportunity for e-commerce businesses, but instead, it has been stressful and difficult to manage.
Businesses that had already invested in contingency plans for peak selling times have been the ones experiencing little or no downtime and coming out on top. Instead of struggling to fulfil orders, find new suppliers, or work with new carriers, those with better visibility across their whole supply chain were prepared for whatever happened.
Once the coronavirus pandemic is over, some companies may not change their plans, expecting that a disruption like that will never happen again. However, this is a risky strategy, with no way to predict any other global changes or issues arising in peak times. Companies that heed to the lessons of the crisis will be investing in their supply chain management and delivery strategy so that they can find quick solutions when disruptions happen. Instead of experiencing a lot of stress and struggle, they will be able to adapt quickly and easily. In the long term, these are the companies that will continue to thrive.
Delivery Contingency When You Need It Most
Having a robust contingency plan not only helps retailers manage any issues that arise during normal peak times but protects you when the unexpected happens. When it comes to delivery, customers have high expectations, and letting them down may mean they don't shop with you again.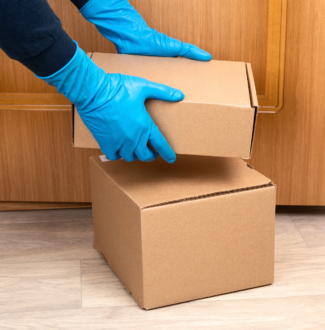 One of the key ways to ensure an uninterrupted delivery process even in times of global change is working with multiple carriers. If you experience issues with one carrier, or they're having trouble dealing with the high capacity, you need to be able to switch services quickly with no disruption to your internal processes or the customer experience.
Working with multiple carriers, however, can seem like a real headache. Working with a delivery management company like GFS makes all of this easier, whilst also saving on costs. GFS is the global multi-carrier delivery partner you can trust to protect your delivery all the way to the customer's door and back again, with a robust delivery and returns system.  
Make sure you have the backup to recover from a disruption quickly, the flexibility to adapt when delivery needs to change, and secure the future of your businesses. Download our free 9 point plan for delivery contingency post-Covid-19.